Greetings from Chairman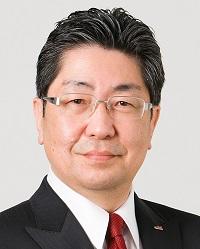 For over 70 years since its establishment in 1948, the Japan Electric Measuring Instruments Manufacturers' Association (JEMIMA) has been making wide-ranging contributions to the development of society and industry as an incorporated organization that handles electrical measuring instruments that are indispensable foundational tools for R&D, design, and manufacturing in many areas of industry.
The spread of the coronavirus began in 2020, and the world has not yet returned to normal, with serious consequences for the economy. Another effect of the coronavirus is that some companies have accelerated digitization in order to increase sales, and there has been a rush to digitize in some areas. Looking at the coronavirus era, including the establishment of a governmental digital agency, and looking ahead to the post-corona new normal era, it is clear that JEMIMA must keep up the current pace and operate on the leading edge of current trends.
For that purpose, I would like to implement the following three fundamental policies with priority.
Policy number 1 is "digital transformation to promote JEMIMA activity in the new normal era."
As the world reaches new milestones of digitization and transformation of society, JEMIMA's first theme for the new normal era is digital transformation (DX), which covers a wide range of areas from data generation to data operation and data management. Through the DX of industry and societal infrastructure, we will work to expand the value added by member companies, and at the same time we will work on the DX of JEMIMA itself, which includes all the member companies. To consider what specific actions to take, including actions that are not tied to a particular time or place, we will create a new DX Task Force.
Policy number 2 is "innovation in measurement technology to support the data society."
Nowadays, data is the key to the development of society and industry, and it is measurement equipment that produces the data for industry and society. In our data society, it is more and more important for us in the new era to understand and contribute to the measurement and metrology technology, the measurement standards, and the international standards that make use of and expand the range of data and ensure its correctness. That is exactly the realm of JEMIMA, and we believe that a new and deeper appreciation of its importance will lead to an increase in the value of JEMIMA. In addition, we would like to make the importance of this area better known by collaborating with member companies and outside stakeholders.
Policy number 3 is "a connected JEMIMA."
"To connect" means communication.
JEMIMA has been long strengthening these ties through exhibitions and seminars. By providing value through the infrastructure put in place at last year's hybrid Measurement and Control Show for this year's IIFES 2022, we will further strengthen our relationships with member companies, customers, and related organizations in industry, academia, and government to increase the value of JEMIMA and the satisfaction of member companies.
Based on these three pillars, and the foundations laid by past chairpersons, and with the cooperation of the many others involved, we will strive to make an even more attractive JEMIMA that contributes to member companies, customers, and society, as stated in the JEMIMA philosophy.
We appreciate your continued support and cooperation.
Please look forward to big changes at JEMIMA.
Japan Electric Measuring Instruments Manufacturers' Association (JEMIMA)
Chairman Hirozumi Sone